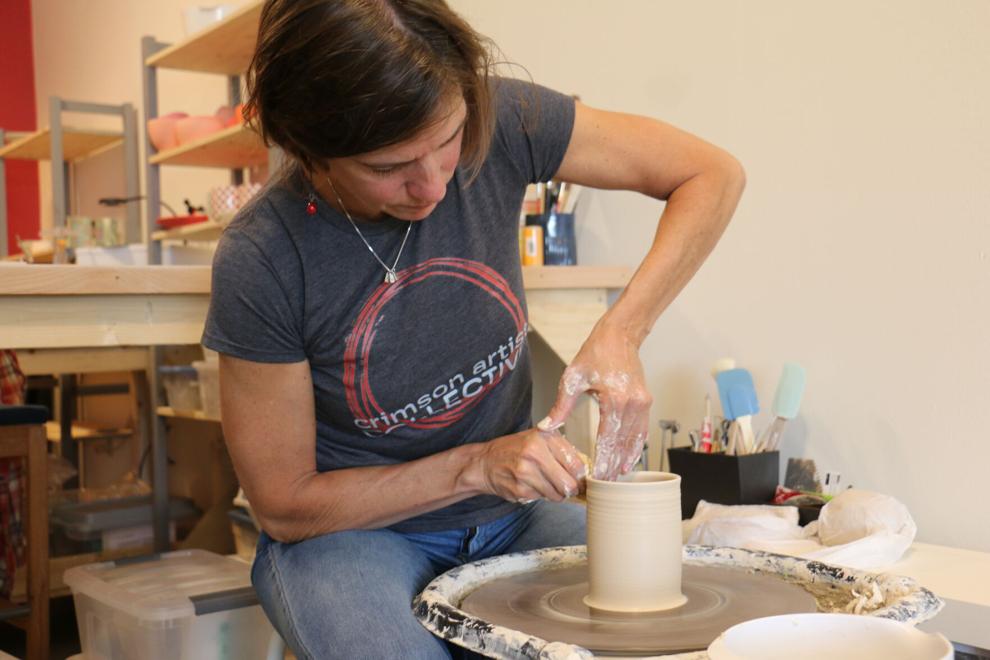 Different people find their peace and balance in different ways, for Gretchen Olson, she finds her zen on a pottery wheel.
The Fitchburg native hopes to spread the centering feeling she experiences when working with clay to the wider community, with her new business Crimson Artist Collective Pottery Studio and Gallery, which celebrates its grand opening this weekend. The studio and gallery space is located at 1031A N. Edge Trail.
Olson founded the business with two partners – her sister Heidi Hankley and their friend Becky Powers.
There they plan to host classes, workshops, and monthly events featuring both pottery and other mediums. There will also be a gallery space featuring work from multiple artists.
"I wanted to have a studio and gallery space for anyone who appreciates pottery whether making it, buying it, or watching it being made," Olson told the Press.
She had a studio – complete with a kiln – in the den of her home for 18 years and made pottery while raising her children.
She spent the last five years working a desk job for University of Wisconsin and while she said it was great for a lot of reasons, she felt the creative side of herself dying – which is why she decided to quit her job and start her own business.
"I'm at the age of my life where dreams have to be set aside for good or realized," she said. "I was kind of thinking, 'if not know, when?' At my age you start to think about death and mortality and you don't want to get to your deathbed and have regrets. Not doing this would be a huge regret, this is a big check off my checklist."
Olson was inspired by the Brené Brown quote, "Unused creativity isn't benign. It metastasizes."
Crimson Artist Collective is the answer to her calling to realize her dreams and ensure her creativity doesn't metastasize. She chose the name after noticing in most of what she creates, there's a bit of red.
"It mirrors my personality, I'm kind of understated but once in a while I have a good punch of energy in there," she said.
Almost in duality with the Brené Brown quote about where a lack of creativity is akin to a tumor, Olson said the pivotal quotation that inspired her comes from Howard Thurman, encouraging coming to life.
"Don't ask yourself what the world needs. Ask yourself what makes you come alive, and go do that, because what the world needs is people who have come alive."
Olson creates a lot of functional art such quilts made from clay that can be hung on the wall, earrings, house address numbers, and next she plans to move into making pet cremation urns and possibly human urns, as well.
She's figured out the technology to put photos onto her pottery. She made a mug with a photo on it of her dog who passed away last year.
"I could really grow that niche," she said.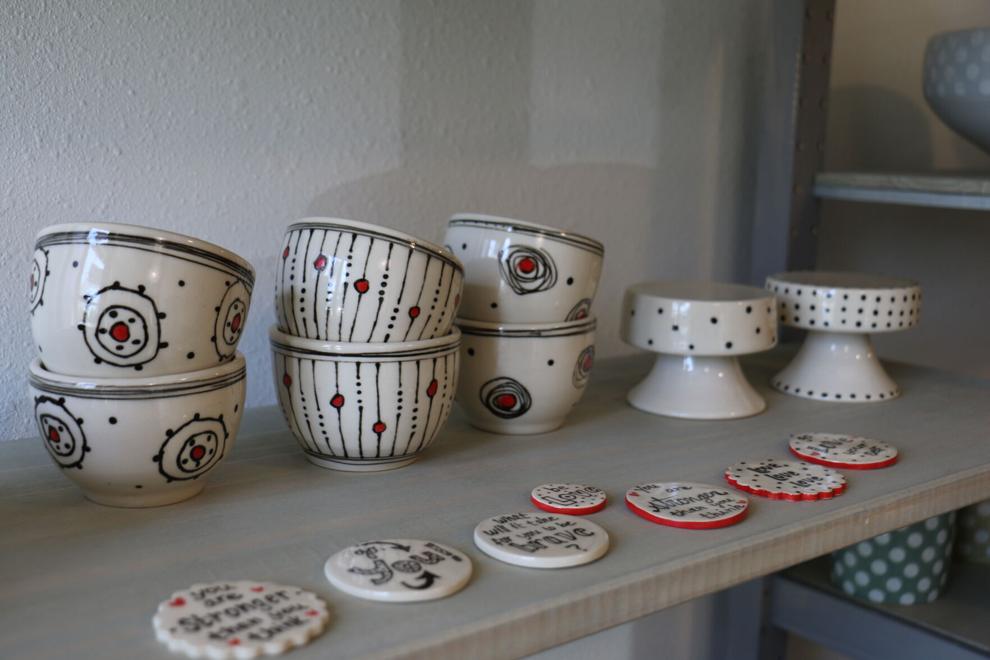 Creating community
In some ways, this studio and gallery is a realization of her teenage dreams later in life. While Olson wanted to be an art major in college, she didn't feel it was practical, so she got a degree in retail business instead. She went on to work in inventory allocation for Target stores' corporate headquarters, which she said was "really stressful."
But she discovered a clay artists community in her neighborhood and began taking night classes at a local arts center.
"When I went to take those classes, the stress of my job totally left my body," she said. "It was really eye opening for me, and is something I have paid a lot of attention to. I could use this practice with clay to relieve a lot of stress."
She continued to work in supply chain management for eight years while starting a family. Then, after her last kid was born, she built her in-home studio.
"When I built that studio in-home, I built a community for women with kids," she said.
While the kids would play, the women created.
"The connection and collaboration were the pinnacles of making," Olson said. "Making alone in a studio is fine, but making in a community is way more useful. It's been beneficial to my development as an artist."
However, after her kids had all left home, she sold the house with the in-den studio and at her next house, she built a garage studio. But she said it didn't feel quite right, and working in a garage by herself was "prickly."
"I want to make in community," she said.
Which led her to actively searching for the right space for Crimson Artist Collective.
"It's a big risk to rent this space," she said. "But I need it and I want to think other people in the community will benefit from it too – I am certain of it – that's why I did it."
"I wanted to open a public space for a couple decades but I've hidden behind my fear, asking, 'Am I enough? Can I do this?' but I've done a lot of work on this, this was just the right way to do this, working my butt off and it feels good. It feels like doing what I was put on this earth to do. I can't wait to get people in here," Olson added.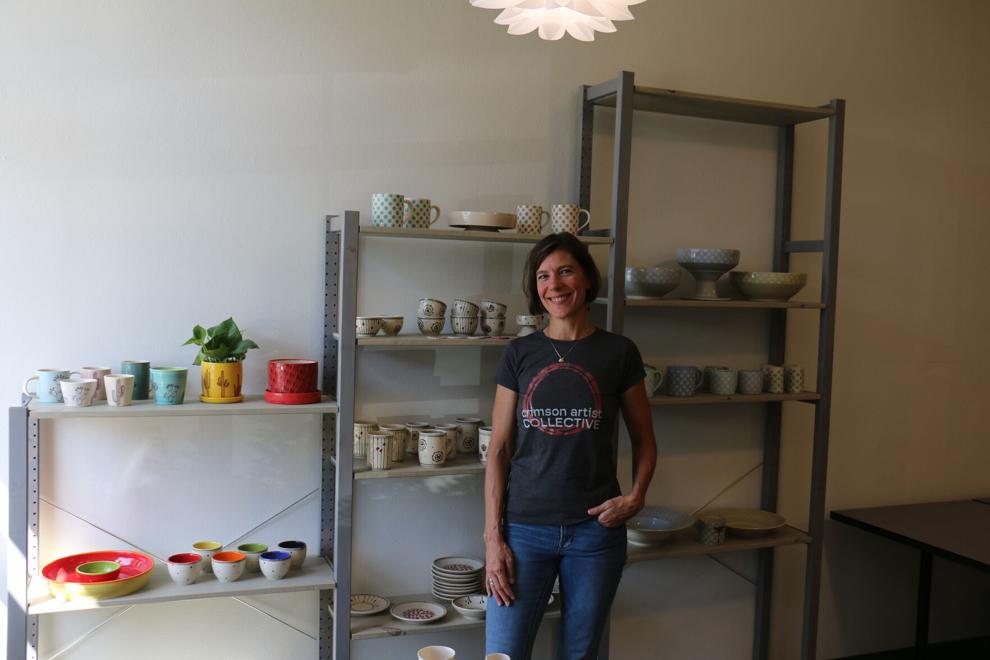 Inviting space
Olson said she, her sister Heidi Hankley, and their friend Becky Powers will all focus on the process – not the product – of the art making.
"I think that helps remove pressure from creator," she said. "You are not here to create something – if you do, that's a bonus – but we want to focus on the practice of making."
To help facilitate that, the instructors will all work on keeping their energy levels in a good place, Olson said.
"It is hard to stay balanced and level, but that is a challenge we three take seriously in our lives," she said. "I have always been a maker and working with my hands is my happy place. I think of art as a moving meditation – a place to put the world on hold for a moment, go within, and meditate a bit while making art. I notice I tend to be a more joyful and balanced person when I am able to make art."
Olson added that the troubling part of her last job was that she wasn't able to create, and that absence of creation was turning into rage.
Olson said her sister Heidi is an experienced community art instructor and printmaker. She will teach sgraffito, a technique used in pottery, which consists of putting down a preliminary surface, covering it with a superficial layer of a different color than the base layer, and then scratching away the superficial layer in such a way that the pattern or shape created is of the preliminary layer's color.
There will be classes for all ages, Olson said. They plan to build some curriculum around kids, "to help them find their voice," she said. And they will be looking into grants to work with seniors, "another slice of the population that can benefit from learning new things," she said.
"Getting clay into their hands can break them out of the daily monotony of living with dementia and Alzheimer's," she added.
Before the end of the year, they plan to offer 'come try it out' nights on the pottery wheels, for people with little to no experience. Starting next year, they will move into offering five-week workshop sessions at both beginner and intermediate levels.
There is more than one kind of clay that will be used. White stoneware is the primary clay, but there's also porcelain, which Olson compares to butter and said it's more difficult to work with.
They will have space for up to five people in pottery wheel classes. Non-wheel classes could fit up to 10 participants.
They will start with a pay-per-class model, but plan to offer subscriptions at some point.
Crimson Artist will also be offering a limited number of studio memberships for artists to come in and do independent work.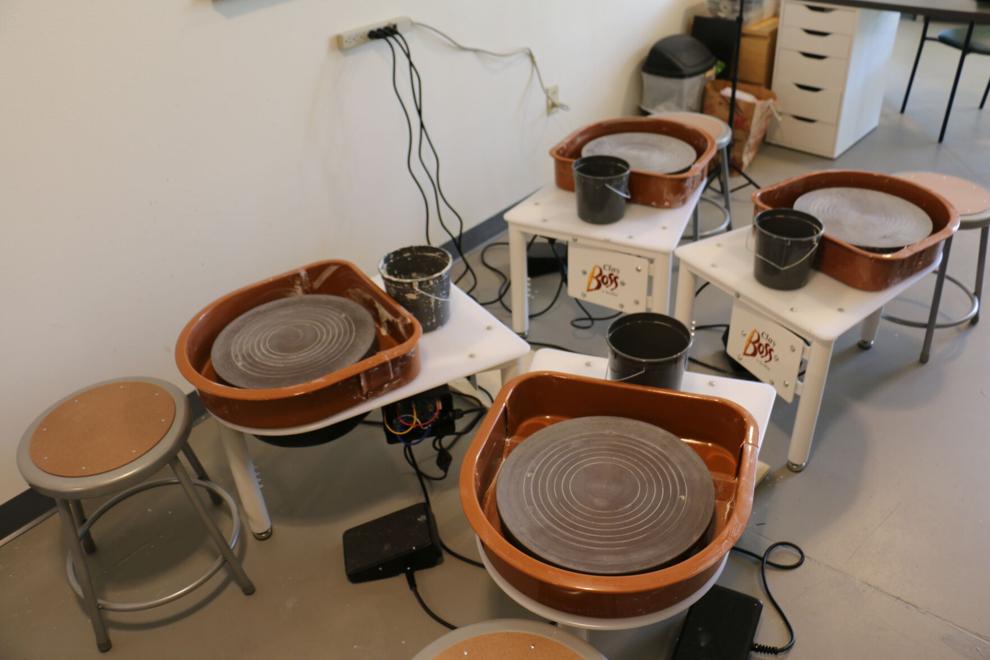 Crimson trio
Olson says that she, Hankley and Powers are "a powerhouse together."
"Put our energies together and we rock it, I feel like we have something really strong together," she said. "The desire to do something and the ability to do it are two different things. I wouldn't have wanted to do it without them. We all have our hands in this in a large part. We have fun, we have good energy, we're enthusiastic, and the more students we add the more fun we have, so the more the merrier."
Olson hopes the spirit of the bond between the three will help sow connections amongst their students, as well – as she said she believes connection is something lacking in the world right now.
"I think that in a general sense, a lot of people in society are struggling right now with a lack of connection and lack of joy, particularly since COVID-19," she said. "This is such an opportune time to open my doors. People are really craving connection."
Despite the trio's strength, she described their next few months of opening as merging slowly off an on-ramp onto the highway.
"We're moving mindfully," she said. "It's tempting to dive in, but that can get sloppy, so we want to be mindful, which feels 100 percent right to me."