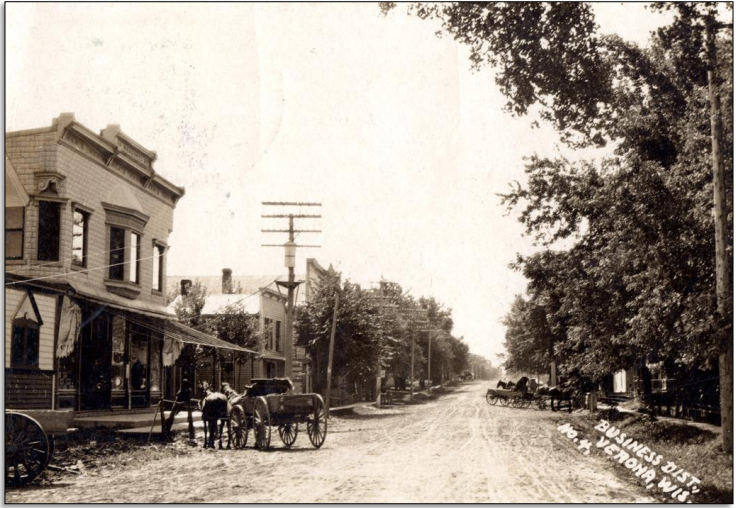 When you think about who keeps local history alive in smaller cities or towns that are not routinely the subject of books and documentaries or don't have their own history museums, it usually takes at least one local resident who totally geeks out about the past to keep it living in the present.
For Hometown, U.S.A., it's Verona Area Historical Society president Jesse Charles' energetic enthusiasm for local history that has helped reinvigorate the past in the minds of residents today.
Over the month of June, the historical society has been facilitating a variety of activities to commemorate Verona's demisemiseptcentennial – or 175 years – since becoming a town in 1847.
As part of those celebrations, last weekend Charles led a group of 25 people around downtown Verona sharing interesting stories of historic people, homes, and businesses that have occupied various sites near Main Street over the decades.
"Today you will all be time traveling," Charles said. "After today, things will start to change in your mind. You will start seeing things that had been there before and you will start to see them there every time. It's a whole different way to enjoy our hometown."
The tour was titled 'Verona History Lost and Found' because some of the buildings discussed are still standing and have been preserved, while other stops along the way discussed buildings that have been torn down and replaced.
Participants were provided a booklet filled with historical photos and dates about the residents or businesses that formerly occupied over a dozen stops along Main Street.
Along the way, Charles provided additional details and shared chronicles of bygone days. At some stops, participants on the tour even helped fill in a few gaps in his historical accounts or shared their own memories and anecdotes about the buildings.
One common theme that became a running joke by the end of the tour is that the majority of buildings Charles stopped at have housed a post office at some point in Verona's history.
While Charles is a major history geek, the tour participants were his guinea pigs. He said it was the first walking downtown history tour that he had ever conducted, so he was still working out the kinks. Originally scheduled to run for 75 minutes, the tour stretched out to 135 minutes.
"One big change I'll be making is to not end the tour just on the sad story of the [loss of the] Sharpe House, but rather on the more positive note that we still have so many historically interesting places left in Verona," Charles told the Press. "They aren't all obvious, but they are there, and letting people know about them is the first step in helping people care about these places."
While Charles doesn't currently have any more of the walking tours scheduled, he said additional runs of the guided downtown Verona history walks on South Main Street will be happening in late Summer. 
For details about future tours, visit veronahistory.com/175 later this summer.