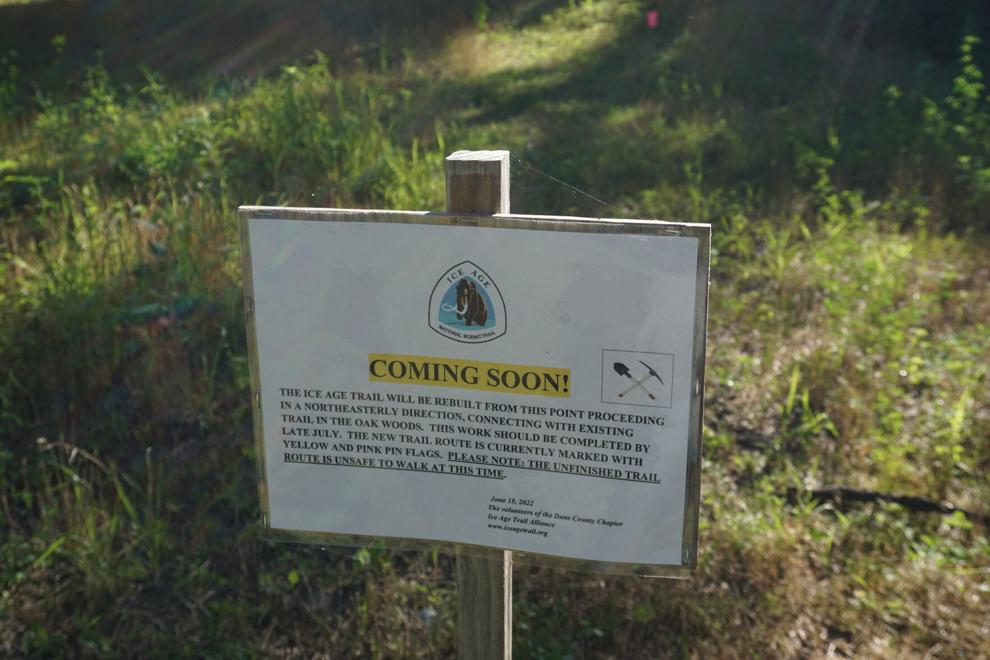 Twenty-four volunteers working a combined 160 hours over two days this past weekend helped to carve out a new segment of the Ice Age Trail in Verona – 844 feet of new trail, to be exact.
Volunteers moved and piled brush and logs, mowed, raked the trail corridor, and constructed a new trail.
On Friday, July 29 and Saturday, July 30, the volunteers gathered in the cul-de-sac at the end of Lincoln Street, where they crossed the bridge over Badger Mill Creek and passed over the eastside interceptor project corridor into the adjacent woods.
The volunteers were working to restore part of the trail that was "obliterated" by the eastside interceptor gravity sanitary sewer project last year, Ice Age Trail maintenance coordinator Ed Spoon said.
The Ice Age Trail ran quite close alongside Badger Mill Creek before that project, he said. The rebuilt trail is offset from the original trail due to the now-paved intercept corridor. 
"A long stretch was completely obliterated, but we're in the process of rebuilding it, hopefully better than before," Spoon told the Press.
The 844 feet of new Ice Age Trail that the volunteers helped build was a "vital" piece of the effort to reconnect some existing parts of the trail after phase one of the city's sewer construction project wrapped up in 2021, he said. The new trail segment now connects to 1,200 feet of preexisting trail.
The entire group began by grabbing previously cut timber and piling it for retrieval by city workers later. When that job was done, they broke into two separate crews and got to work creating walkable tread for a trail.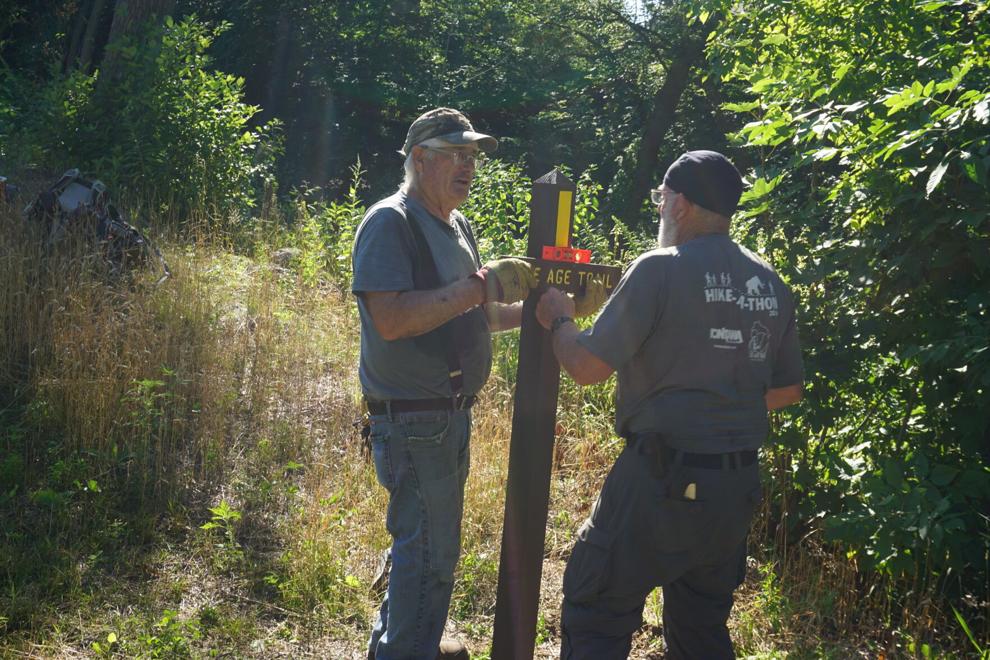 Half of the volunteers were first timers, and eight volunteers worked both days. A few people were from the immediate Lincoln Street area and had around only a two-minute round-trip to the worksite.
"This part of the trail is all spruced up and open and ready for people to enjoy again," Spoon said. "Since the sewer project started, this whole section was closed because of disruption."
This section of the trail used to be nicknamed "the horseshoe" Spoon said, but that name is likely to fade into obscurity since the rebuilt trail is no longer horseshoe shaped.
Whether a new or veteran volunteer, trail building is still hard work. Even for the longtime volunteer of 12 years, who has been coordinating trail maintenance for the past seven years, the 42 miles of the Ice Age Trail winding through Dane County can be "a lot to try to keep up with and take care of and maintain," Ed Spoon said.
Those 42 miles are all the off-road trails, and that figure does not include connecting walks along community or county roads.
Six and a half miles of Ice Age Trail are situated within Verona, he said, calling it a "significant chunk" of Dane County's segment of the statewide trail system, of which there's currently around 640 miles of trail completed around Wisconsin.
Building a trail is a "fairly involved process," Spoon said. He and fellow volunteer Dave Lonsdorf spent time preparing the site before this past weekend, chain sawing trees and clearing invasives, getting ready for their volunteer crew.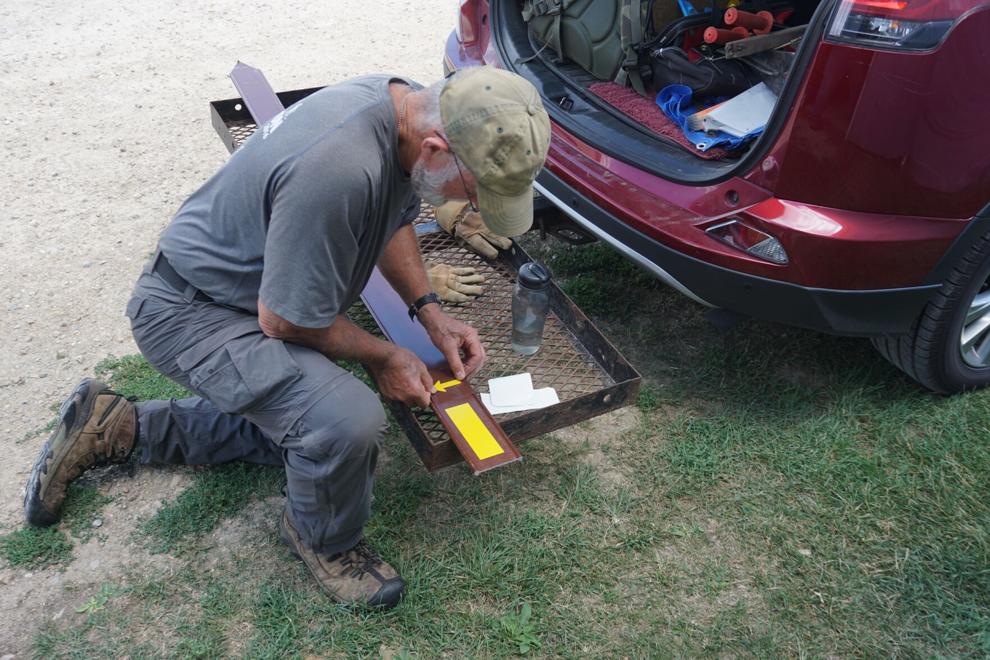 Keeping up with trail maintenance has also become more complicated in recent years due to two factors, he said. There has been significantly increased use of the Ice Age Trail since the start of the COVID-19 pandemic, and increasingly heavy rain events that wash-away trails
"It seems like we don't get light rains anymore," Spoon said, which is why they specially construct trails to drain.
Following the two days of work this past weekend, parts of the Ice Age Trail in the eastside corridor still need to be rebuilt, including a wooden boardwalk that takes people over a tallgrass prairie area.
For the uncompleted parts of the trail, hikers use the paved eastside corridor walkway – but someday in the future, trail users will no longer have to weave off-and-on of the official trail system.
Temporarily, people still need to walk on around 300 yards of the city's paved pathway in the corridor when they come off of the stretch of Ice Age Trail from Whalen Road before hopping on the newly-built trail segment.
While the volunteers have seeded for new vegetation, the dry climate has not been conducive for growth, so it's been slow to fill-in on the hillsides of the corridor, where further connecting trails will be built someday.
"We don't want to build the trail there now, it would ensure nothing would grow," Spoon said.
It's possible that the boardwalk will be replaced yet this year. It has floated off its moorings twice since first being built. The Ice Age Alliance has now come up with a new style of building the boardwalk that should secure it better, and it will be built by a contractor instead of volunteers, Dane County Chapter of the Ice Age Trail Alliance coordinator Bob Kaspar said.
It will be at a better angle to a nearby grove of spruce and pine trees lining Badger Mill Creek which are part of the trail system, Spoon said.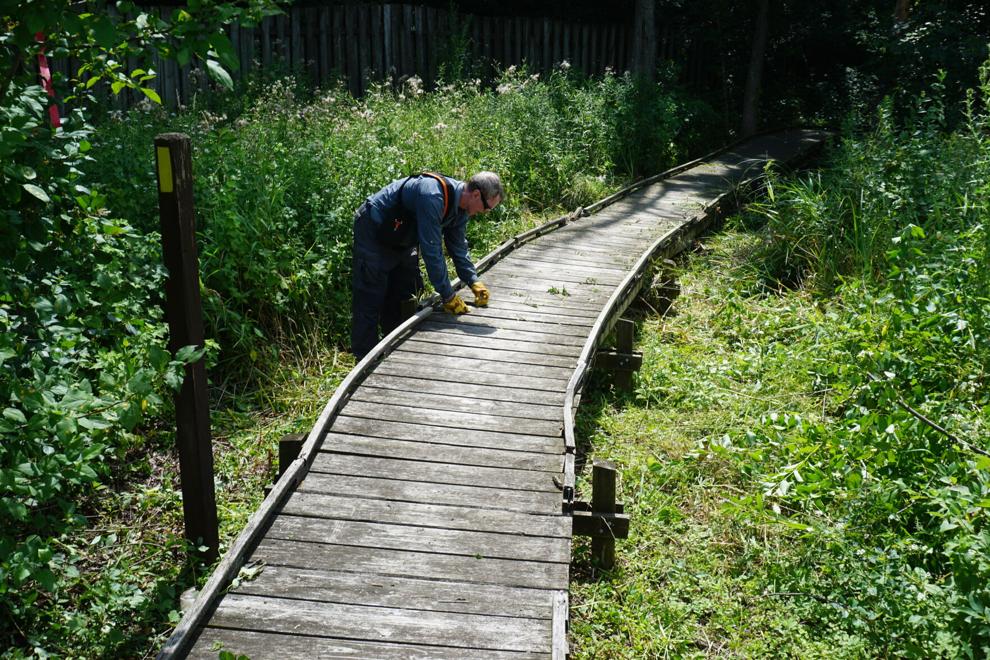 Right now, just as people coming down from the Whalen Road part of the trail have to walk on part of the paved sewer intercept corridor because of missing Ice Age Trail, from the end of the boardwalk, people have to hop back onto the paved path again for a couple yards before they reach a bridge over Badger Mill Creek into the spruce and pine grove, where the Ice Age Trail resumes.
New trail building is not a common occurrence, he said. The last new segment of Ice Age Trail was constructed in the Town of Middleton last August, which was a "lot of work" including building a bridge and boardwalk.
Fortunately, the two dozen volunteers had "pretty ideal weather" to work in this past weekend.
"I wear a lot of protective gear for chain sawing and it's not fun if it's hot out," Spoon said.
This particular section of trail was a joint project between Spoon, Lonsdorf, and City of Verona officials, and required city approval since it was being built on city land.
"Dave and I identified the route, got approval, and got to work clearing," Spoon said.
But when not building, they're maintaining, and plan to do some work on cleaning up the Whalen Road area of the trail this autumn.
The next actual trail building project will be more of a trail relocating project.
The Madison Metropolitan Sewerage District is gearing-up to start phase 2 of building a pressurized sewer system that will continue north of Arbor Vitae Place and run east to the Goose Lake area. Phase 1 was constructed as part of the City of Verona's eastside interceptor project. Phase 2 is expected to begin in March 2023.
This will disrupt and cut-across existing Ice Age Trail again, requiring Spoon to create a re-route or detour, to temporarily connect it with the Military Ridge Trail.
"Somehow or other we'll figure out a route from the spruce and pine grove to behind Verona City Hall," Spoon said. "I'll be involved in laying out the detour, but it's not a big deal, just placing some temporary signposts to guide people."
The disruption will allow volunteers to hopefully build that part of the trail back better, Kaspar said.
Work will also need to be done to officially reconnect the trail coming down from County M, but for now, all is well on the Verona segment thanks to all of the volunteers who helped to pull off the repair in just two days, Kaspar said.
Whether creating new routes or relocating old ones, Spoon said the Ice Age Trail is an important community resource.
"The Ice Age Trail is a real gem for the City and Town of Verona," he said. "It's like a linear park, but really natural, with lots of animals roaming around."